Student opinion on virtual learning varies
Even after a three-month test run at the end of the 2019-20 school year, virtual learning still fails to fulfill the needs of most students.
The disconnect between students and teachers has posed a challenge for everyone involved, as teachers attempt to find the most effective teaching methods for their classes. Of course, such a disconnect only makes it more difficult for students to give an opinion on how they are learning.
In early October, North Star members held a group discussion among several students to gain personal insight into how ONHS students feel about our current virtual learning situation. According to the discussion participants, virtual teaching varies greatly from class to class and even teacher to teacher. Some use canvas calendars to communicate schedules, some send weekly emails with lesson plans, and others use canvas modules with daily groupings of assignments. Alongside these teaching styles, OASD has put a weekly live class schedule into effect, granting students a chance to meet with each of their teachers two days per week. This leaves Wednesday as an opportunity for students to meet with teachers for one-on-one help. 
In addition to the group discussion, The North Star sent a survey to the entire student body in order to gain a better understanding of student-wide virtual learning opinions. Here are the results from just over 200 responses.
A majority (over 45%) of students agreed that considering the current COVID-19 situation, virtual learning is the best decision for the district; however, fully in-person learning came second (with over 35%). With a minority (over 16%) of students preferring hybrid learning, the vote is primarily split between both extremes.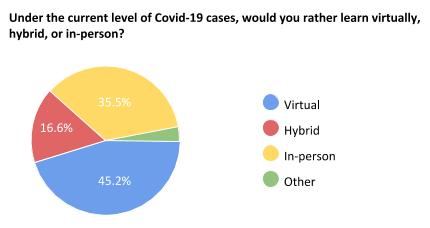 The way teachers have handled both virtual and hybrid teaching has varied by class; however, most methods fall into three basic categories: recorded lessons, live lessons, and written instructions through Canvas. Despite considerable support for all virtual-specific teaching strategies, (over 39% of) students prefer when teachers use a combination of lessons and canvas instructions. On the other hand, live lessons and written canvas instructions nearly drew in the least effective vote (over 32% and over 31% respectively).
Although "best" and "worst" teaching styles can be drawn from the data, the vote is too split to determine a clear answer, and there is a good explanation for this. In a recent virtual group discussion hosted by North Star editors, North students discussed how teaching style depends greatly on class. For example, a daily lesson may be a necessity for a math class, but many electives (like art) do not require so much "live" time.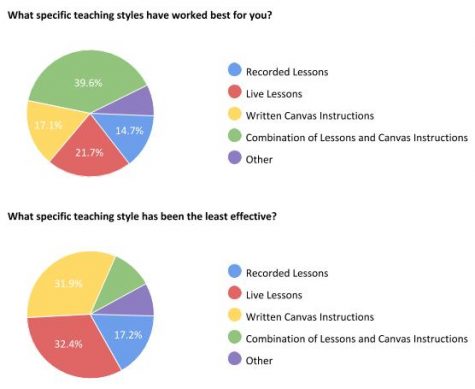 Live lessons have clearly become a point of contention; a majority of students decided that live sessions should not be mandatory, either because they were ineffective or because the decision should be left to the teachers (over 24% and over 48% respectively).
"I personally haven't felt like [live sessions have] really helped me at all," junior Aedon Langkau said during a group interview. "If anything, I see them as just something that kind of blocks my ability to just be working on stuff. Instead of doing my work, I'm often basically forced to go to a meeting where nothing productive really happens."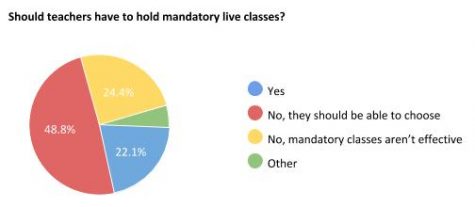 Possibly the most shocking of all the data showed that over half of respondents felt they received too many assignments (over 54%).
"Obviously, in online learning, you can't learn as efficiently and as easily as you can in person," said junior Jackson Sarnowski. "I feel like teachers have still been giving out just the same amount of work, which doesn't really work. I personally can't handle all of that when it's all online."
When asked if students received tools from their teachers to help organize/manage their work, answers were almost exclusively, "No."

Collectively, the data and interviews call for a change in the way North has been handling virtual learning. Although many aspects of the format are split by opinion, there are a couple of things that may help students learn virtually.
First, it's clear that ONHS students need live sessions to change.
 "I feel like the teacher should have more control over their own class because they'll be the ones in it with the students," senior Chantelle Jordan Owens said.
How classes continue in virtual learning should be worked around the specific needs of a class and how those class's students react to the teaching styles put in place.   
Second, the issue with students' daily workload must be addressed. Although a solution is not as obvious, ONHS students agree that lack of communication is the primary cause of the problem. By working together to give and receive feedback on assignments and understanding of topics, students and teachers can at least partially close the virtual-learning gap.
Leave a Comment
About the Contributors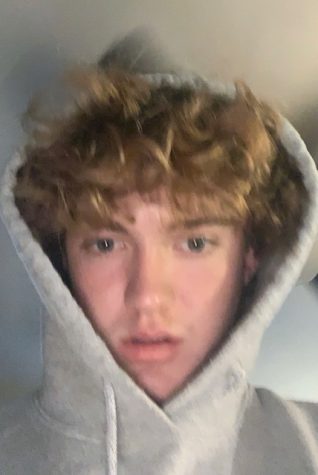 Carson Cook, Editor
I am Carson Cook. I enjoy spending my time doing enjoyable things.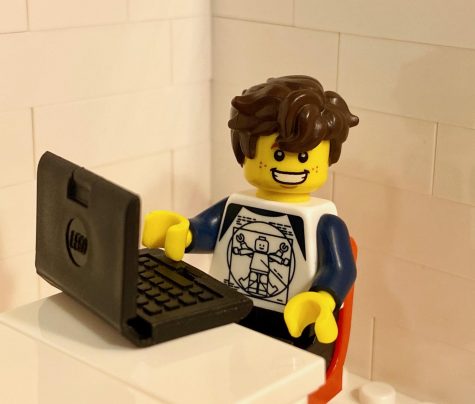 Max Yanacek, Chief and Graphics Editor
Senior, art student, mathlete, and huge LEGO fan. I enjoy spending time with my family and creatively expressing myself through LEGO, art, and writing.