5 Fun and Fresh Summer Jobs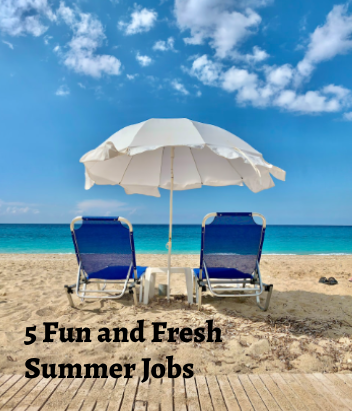 As summer is approaching, more students are looking for short term job opportunities. Finding a fun environment is vital to a good summer job. Here are 5 jobs that will guarantee income, experience, and a good time. 
Lifeguard- If you enjoy spending time in the sun and interacting with kids, this is the job for you. Getting a killer tan while making sure kids don't run is a perfect way to spend your summer. Pollock Pool and the YMCA are both places constantly looking for people
Golf cart driver – Offering people drinks and snacks in the sweltering heat can earn some extra cash and experience. Feel the breeze driving around in a golf cart and learn more about the sport! Westhaven and the Country Club in Oshkosh both are wonderful environments for the summer. Golf cart drivers are needed and very appreciated while playing 18 holes.
Babysitter – Perfect for the summer with specific hours, babysitting offers the chance to expand your problem solving skills and interact with younger kids. Although each family is different, every one of them needs a babysitter once in a while. With babysitting there will always be an available position open!
Dog walker – If going for long walks outside is something you enjoy, become a dog walker! Most people are not home all day during the summer leaving their pets home alone needing a walk. Ask your neighbors, any family members and even animal shelters. Being a dog walker offers the chance to interact with cute dogs and puppies and get your steps in!
EAA – Although this is only a week long event they need numerous people to run it. Whether that's being a cashier at a gift shop or manning a concession stand there are numerous opportunities with lots of potential income!
With these 5 jobs, splash into the summer with more money! All of these positions help build experience and skills that are needed in the workforce wherever you go. From problem solving to leadership these jobs offer flexible hours and lots of fun!