Communities Reels in Environmental Damage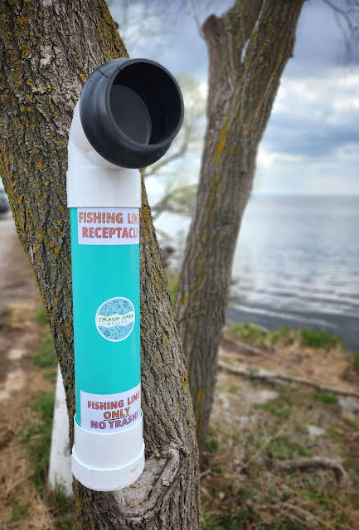 On April 24th, Emily Binder, Shawn Guenther, Keira Oestreich, and Katie Wettarau, Students from Communities at Oshkosh North partnered with the Trash Free Waters program to put fishing line receptacles in three new locations in Winnebago. These fishing line receptacles offer fisherman specific and convenient places to properly dispose of their used fishing line. The Communities program has worked with Trash Free Waters for over 5 years on various projects. 
Trash Free Waters is a program that continuously strives to prevent and reduce trash and litter on our lands and waters through community events and outreach education. This year, their goal revolved around providing a cleaner environment and safer habitat for wildlife with the help of Communities at Oshkosh North.
"Fishing line left as litter in our watershed can have devastating effects on wildlife and can become entangled and difficult to remove. Fishing line receptacles offer anglers in the community the opportunity to properly dispose of their used fishing line before it becomes a problem in  the environment." Kelly Reyer, program coordinator of Trash Free Waters says. 
The communities program is a community based learning program that offers students a unique way to grow their skills in leadership while collaborating with businesses, organizations and members of the community. Their semester of service allows students to take on a project directly impacting the community around them. Students were pleased to design, build and install fishing line receptacles at Asylum Point boat launch, Butts des Morts boat launch, and Ken Robl fishing pier.
"Fishing line is not biodegradable. When the Monofilament is left in our waterways it stays there for hundreds of years harming the environment and its wildlife. For the future that I and many other children will grow up in, I am glad to have made an impact to help our earth with our partner Kelly Reyer from Trash Free Waters." Katie Wettarau, student from communities says.