Five Drinks to Try This Summmer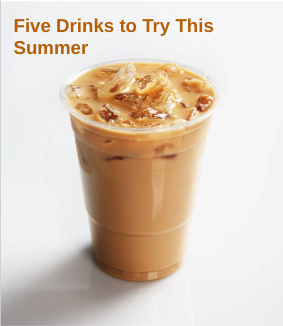 Five Refreshing Summer Drinks
Summer is approaching in just a few weeks, and we'll be back to downtown farmers markets on warm days, tanning on the boat, and bonfires with friends. 
Working at a coffee shop, I find that many people don't think about flavor combinations outside of the typical peppermint mocha, or vanilla hazelnut. At any local coffee shop, there are typically plenty to choose from, and I am here to help you branch out with these summer flavors to get you in the mood for your summer activities!
Blueberry Pancakes – Let's talk; slow mornings after a sleepover or bonfire, walking into your kitchen and getting that ambitious thought to make pancakes. What if I told you that it's possible to throw that feeling in a delicious drink? Best in an iced latte, order your drink with blueberry, butterscotch, and hazelnut. 
Push Pop – When I was a kid, my mom used to get these orange cardboard popsicles that you would push up for more ice cream. In hindsight, I never realized how effective those were when it came to cleanup. After brainstorming, we came up with a flavor combination that best embodies your favorite cold treat. Try orange and vanilla in an italian soda, or if you are ambitious enough, orange and white chocolate in an iced latte!
S'mores – Everybody loves s'mores. It has got to be one of the best treats during the summer, whether you are camping or sitting around the fire, it is a must have. How about that gooey, yummy feeling in a drink? Add gingerbread, toasted marshmallow, and mocha in your next latte!
Wildflower – Not into coffee? How about a floral lemonade? Try lavender and lime in your next lemonade to spruce it up!
Triple Berry Apple – Maybe you do not like lemonade, or maybe lavender is not your thing! There is something for everyone, and this might be one. Try an apple cider with raspberry and strawberry!
Hopefully these drinks will help refresh you on your walks downtown, or a delicious treat on your pool days, or maybe inspire you to create more flavor combinations! Whatever it may be, enjoy your refreshing latte the way you like it!