Media Center Makeover
Grant allows media center to add technology, safe spaces for students
With the New Year comes big changes. While this is true in many parts of life, it is also happening here at Oshkosh North.
Recently, the media specialists have started making changes in the media center and more are on the way.
Students may have already started to notice a few of those changes. Recently, a sound booth has been installed, giving students an opportunity to record podcasts, songs, projects, etc. 
"The sound booth provides a space for students to record audio or video in a distraction-free zone," states Debra Norton, the school's Technology Integration Coach. "The recording will be of higher quality and have a more professional acoustic sound. Whether students want to record some music, a podcast, a video, or even play an instrument, the sound booth is available and ready to use."
Norton hopes to add onto the sound production area, too.
"At some point, we would like to add a sound mixer into the booth for those who want to take digital recordings to the next level"
So far, a lot of students have also started to patronize the new second floor Snack Shack, as a quicker way to get drinks and head back to class upstairs. 
According to Amanda Powers, staff member and supervisor of the new snack shack, its mission statement is as follows: "Engage the school community in providing a welcoming place for soft skills training that supports students in discovering their individual employment capabilities."
Along with those changes, a few state-of-the-arc microphones have been installed along the South wall of the media center.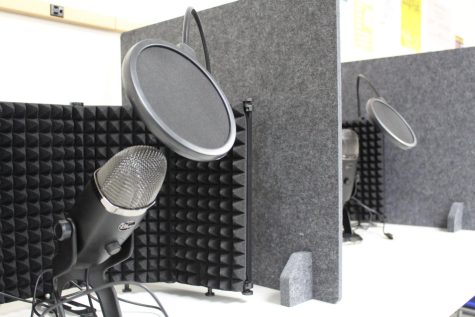 "The four audio stations in the media center are also equipped with high quality Yeti microphones and pop filters," says Norton. "Each station also has a sound panel to help with capturing better sound acoustics."
According to Norton, students are allowed and encouraged to use the microphones whenever they please.
"Students or staff may want to record audio for an assignment or lesson, record a podcast or news story, participate in a webinar or conference call or record themselves singing a song."
These changes are a result of Oshkosh North recently applying for the Rudoy grant to accomplish their Social Emotional Learning (SEL) goals. SEL is a proactive approach to promoting well-being, building a stronger foundation for learning, and creating school campuses where students, educators, and families can thrive. Historically, the Rudoy grant was given to one of the local secondary schools (middle school or high school), and between $10,000 – $15,000. 
In addition to the changes already being made, there are still more to come thanks to the money earned from the grant.
The other changes to the Media Center include:
New flexible seating

Cafe tech station

Oculus Quest

Build your own computer station

3D printers

Xyron creative station

Easy Press

More Cricuts
"Mrs. Norton and I worked on the grant together, our focus is Social Emotional Learning. We know that Mental Health is a huge crisis right now, our Media Center currently has some cool stuff but it's mostly just books," says Teri Rucinsky, North's Media Specialist.
Rucinsky and Norton's vision was to bring technology experiences to students that will meet their social and emotional learning needs.