Blood banks like KTCC suffer from ongoing problems
Knowledge about thalassemia is growing higher, but fighting against it is a struggle. Awareness is being raised through webinars, speeches and articles, but implementation has a long way to go. 
KTCC,  struggling to fight against the disorder, is still suffering from imminent problems. Days pass by, the organization needs more funds, but it's always a ray of hope that exists to move forward. 
The Kech Thalassemia Care Center (KTCC) is a blood bank in Kech Turbat, Balochistan, Pakistan. It is the first and only Thalassemia center in the area running as an non-government organization (NGO), and it treats 350+ Thalassemia patients free of cost. 
Due to lack of awareness and facilities in many backward areas of my country, the disease is prevalent. There is no satisfactory statistical data of the number of patients in the tribal areas. There is no ultimate cure to this disease except for a bone marrow transplant operation which is not 100% successful. There is a 30% chance of death after the transplant and it is extremely expensive(worth 10 million) for the parents of backward regions. 
Turbat is the main city of the district Kech. KTCC is the only blood bank in the division. There are so many patients from the district who belong to the rural areas and have to come to the city to get blood. Most of the time transportation becomes a problem for them. Because of poverty they cannot afford the costs of public transportation every 15 days. 
It was established in 2019 by Irshad Arif who is a social activist and a part time teacher. Since 2019, Irshad Arif along with his humble team has been working together and putting their all efforts to function this blood bank. So many volunteers and staff have been actively participating in all the blood banks that took place and are continuously taking place within the region. 
Luckily, KTCC has blood screening machines, so monthly 400 safe blood transfusions and medicines are being provided to these kids with special care all free of cost.
Being a part of KTCC, I always got to meet the kids and listen to their stories. Everytime I asked them about their experience in the KTCC, they would appreciate the amount of care they get in KTCC and the efforts of the caring and responsible staff members. 
Irshad Arif has been visiting different thalassemia centers in different cities in Pakistan to help his NGO function. The medicines for this genetic disorder are very expensive for parents to buy. Therefore, Irshad Arif has been providing them free to the kids each month which is a huge expense. 
Apart from conducting blood banks, Irshad Arif has proved to be a true humanitarian worker arranging awareness programs at different places of the region. During his programs, he gives speeches and explains what this disease is. However, due to lack of awareness among people, most of them don't know it is a genetic disorder. To help these kids get blood transfusions, Irshad Arif also needs to explain to people the importance of donating blood to their body because it would be hard for people to donate blood without having awareness about it. He himself has donated blood for the 20th time this year which shows his enthusiasm to work on this great cause. "The first time when I came up with the idea of establishing KTCC was seeing helpless parents in Civil Hospital crying to people to donate blood to their children," says Irshad Arif. He came up with a lot of obstacles to finally establish this blood bank, but he never stopped working to make it better.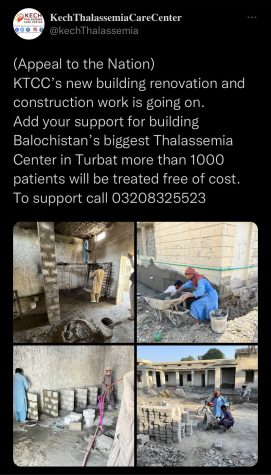 KTCC building was built some time ago but it was not their permanent place. The owner has asked them to empty the building as soon as possible. Currently, KTCC is struggling to work on its permanent building to make the laboratories and blood donation rooms so the children don't suffer. KTCC is in need of funds to help build the building in no later time when they are asked to empty the building. KTCC's trust reach is limited, therefore they have a hard time to get more funds and establish their permanent building. 
Kech is a large district and there is only this one blood bank. The number of patients of thalassemia will increase if there is less support to the blood banks that provide all the medications to the kids. The only way to lower down the number of thalassemia patients is to help set up more blood banks or help the blood banks that are in function by providing them more funds and medicines for monthly dosage.