Anna Kozel, Ukrainian stuck in America
Every morning, 17-year-old Anna Kozel wakes up in a room provided for her by her host family. She puts on her clothes, eats breakfast, and heads out for her second year of high school. She passes McDonald's, Pick 'n Save, and Kwik Trip on her way to Oshkosh North High. Her eyes catch on the rising gas prices listed dozens of feet above her time and time again. The prices, currently ranging from $3.5 – $5 dollars a gallon, have risen partly due to escalating tensions between Russia and Ukraine, where Anna hails from.
Anna Kozel is a Ukrainian foreign exchange student who stayed in America for an additional year instead of returning home to a war.
The war reminds her of the family she has been separated from. Her mother, father, and little sister Anastasia live in the Khmelnitsky Oblast in West Ukraine. Every day in the small town of Slavuta, Anna would walk to her small school containing every grade with her little sister Anastasia. School in Slavuta was only a short distance away.
"I'm glad that I'm here [in America] so I can experience real school, so I can learn normally without any bombs or grenades. I'm lucky and so glad I could be here and experience normal schooling, and in Ukraine I wouldn't be able to do that," Anna says. 
While Anna enjoys school in America, she still worries for her family as she roams the halls of ONHS. Her mother, Lyudmila, is a nurse, while her father, Mykola, is a member of the City Protection unit. They cannot leave the country because of their importance to the Ukrainian military.
When the war first began, Anna's parents considered sending their youngest daughter to Poland, where nearly 6 million Ukrainian refugees have migrated to. Because of their current location in the war-wrought country, they decided against it – however, if the situation in Ukraine escalates further, they plan to send Anna's sister to Poland. 
"My town [Slavuta] is relatively safe; it's pretty small and doesn't have any big military points that Russia can target. Thirty minutes away from my town, though, there is a nuclear power plant, which is currently a target for the Russian military. If they were to shoot the nuclear power plant, it would be catastrophic. That's the main danger for my town," Anna explains.
Anna's uncle is also of great importance as a military doctor, but while she can communicate frequently with her parents and sister, she is often unaware of her uncle's status. She believes that her uncle is stationed in Kyiv, the capital of Ukraine. Kyiv has been attacked repeatedly since Feb. 24, 2022, when the Russian invasion first began, though Slavuta has remained unscathed.
As she sits down in the cafeteria, Anna reminisces about Ukrainian food, which she misses dearly. She talks with her family over text messages and sometimes starts a video call to chat. Talking with her parents and little sister as she sits in the bustling lunchroom occasionally stirs feelings of homesickness in her. She was originally supposed to return to Ukraine in the summer of 2022, but because of the war, the FLEX program provided Anna and her family three options: Anna could stay in America, go to France or Spain and live with her relatives, or go home to Ukraine. 
"I thought about it a lot and talked about it with my parents and we decided the best option we had was for me to stay in America. I was supposed to go back to Ukraine, repeat the school year and then graduate, but I'm not able to do that right now. I was supposed to do something after school like go to college or figure it out later, but all my plans changed and I didn't know what to do."
Though the decision was partly hers to make, Anna struggled to adjust to staying in America during the summer. As someone who tries to have her future planned out, the change of events left her frustrated, lost, and yearning for home.
"I had a very hard time this past summer because I wasn't in Ukraine. Subconsciously, I knew I was supposed to be home, but I wasn't and that caused a lot of problems for me."
Staying in America has gotten easier for Anna but there are still many things about Ukraine that she misses, including the cuisine, her friends, her family, and the forests that surround Slavuta. As an Orthodox Christian, Anna also misses Ukrainian holiday traditions for Easter and New Year's, but especially Christmas, which is celebrated on January 7th in her region. But with change comes opportunities, and opportunities is what Anna signed up for. Now that she has gotten adjusted to living in America, things are going smoothly for her.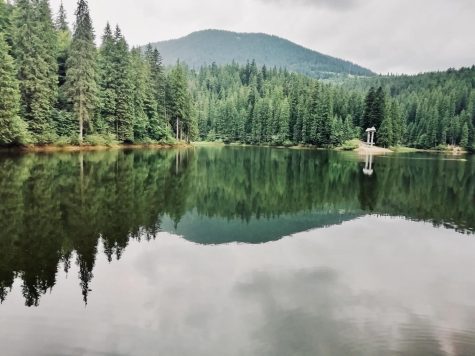 "I'm feeling better now than I did in summer now that I have a routine. I don't like the war at all, but I'm at least better settled in here. I guess it's a part of human nature to adapt to your surroundings, and that's what I did."
After a long day of school, Anna gets a ride home from her host parents. Throughout her stay in America, she has stayed with the same host family. Spending so much time with them has strengthened her relationships with them. When she arrives at her host house, she goes to her room to start her Oral Communications homework, a room she now shares with another exchange student.
"Another exchange student came here from Latvia and lives with me; we share a room. She's a senior, too. We have a good relationship." When the war in Ukraine first started, Anna became more reserved and closed-off, which made it difficult at first to meet new people – including the Latvian exchange student. However, Anna quickly took a liking to her. 
At the end of the 2022-2023 school year, though, Anna will part with her host family. She plans to return to Ukraine in the summer to see her friends, family, and forests. When the season comes to an end, Anna plans to return to America, but her plans are not set in stone just yet. When she returns, she aims to either take a gap year or start college for further education.