Welcome Mrs. Kujawa!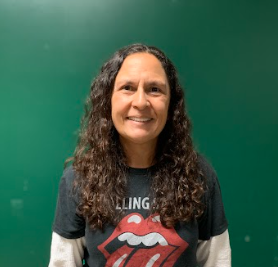 Due to Sheila Alvarez retired at the end of last year, we now have a new face greeting students at door 7: Kathleen Kujawa.
Prior to this job, Kujawa worked at Washington Elementary in the media center. Because the school will close soon, she had to find a new job. 
"North High School was intriguing to me. I'm interested to see what the high school environment is like," Kujawa says.
Being the door monitor includes a few important roles. Kujawa is responsible for checking students in and out of school and ensuring our safety by watching security cameras. When visitors arrive, Kujawa will check them in and help them find their desired location. And when students leave things at home, Kujawa gets the pleasure of greeting the adults bringing in students' forgotten items. 
Originally from Neenah, Kujawa graduated from Neenah High School and went to college at UW-Oshkosh. She then transferred to a Menasha extension. But around her three year mark of her college career, it didn't make sense for her to continue. 
"The travel began to be too much to make sense in my schedule." 
After some consideration, Kujawa decided to stop attending college and move onto the next chapter in her life. 
In her free time, Kujawa loves to be outside. As long as the weather is warm, she'll do just about anything like hiking, biking, and kayaking. 
For any holiday or season, Kujawa loves to keep her house decorated. She's currently working on getting her house ready for the fall season and Halloween corner. 
With her new role, Kujawa has been most excited to get to know the students and staff here. 
 "I absolutely love it here at North! It has been great! All the kids and staff are so nice."
In fact, all of her five children have gone to school at North. 
"Our family has always been happy with North High School, so I knew working here would be great!"