My journey to the US
Hello. I am Sahar Karim, a foreign exchange student from Pakistan. It's been nearly a month since I came to the US. 
Hailing from the barren mountains of Balochistan, Pakistan, I have come a long way making it this far. Being a youth ambassador of my country is a dream come true. As a child, I always loved doing things out of my comfort zone and exploring things beyond what I possibly thought exists. 
Attending a high school in the U.S. is a completely different experience for me. The education system back in Pakistan is a lot different than here with the most obvious one being "formality." It's something common back home to approach people directly in your school and request for their time, but it's quite different in high schools here. You send an email and wait for their response. 
The high schools here have a pretty chill environment. We cannot choose subjects based on our interests and study what we are assigned to. The high schools here are more practical than theoretical. We are more theoretical back home, and we don't have extracurricular activities like sports and clubs to participate in. It's not worse or better; it's just different.
Besides schooling, the geography differs greatly, from wandering in the barren mountains back home to hiking in the green hills around Lake Michigan. Hiking for the first time near Lake Michigan is my first beautiful experience in the US. I also had my first kayaking by the lake near Menominee Park and Zoo, one of my favorite experiences that I had in Wisconsin so far. I am in love with the lakes and the greenery of Oshkosh.
Exploring different cultures, religions, places and environments was always a dream. I got to experience the Amish community and bakeries last weekend. And I got to experience my first camping trip this weekend and it is one of my best experiences so far.
I also got to visit the Birthplace of the Republican Party the day after reading about the the Republican Party in U.S. History class. Apart from these, I got to experience some fun stuff here like going to an arcade (Funset Boulevard) playing different games, and winning prizes.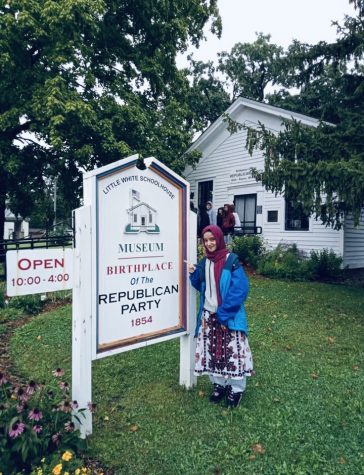 Of all the best things, I feel blessed with are the everlasting memories and bonds I am making with my American family and friends. Being in a different land, each day feels a new beginning. Either doing a new thing, meeting new people, seeing something new or seeing something differently than I usually saw back home. 
Coming to the US through the YES program is the best decision I ever made in my life. I feel like growing as a more mature and responsible person. I am looking forward to make the most of my exchange year.