Alumni Spotlight: Dr. Sumit Ringwala, '96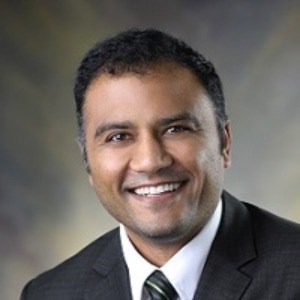 Many students sit in their classes every day wondering what their lives will be like when they get older. Some dream of becoming a professional athlete or an actor. Others see themselves raising a family. Many will follow a career that can change over time. 
Regardless of what they become, all of these possibilities share one common trait: they all take a lot of hard work to achieve. 
A great example of this is Dr. Sumit Ringwala, a 1996 graduate of Oshkosh North High School. 
Throughout high school, Ringwala didn't hesitate to get involved in various clubs and organizations. He participated in the boys' tennis team, student council, and Polaris National Honor Society. 
Through the Medical Scholar's Program, Ringwala got into medical school while he was still in high school.
After countless hours of studying and determination, he earned his position and currently works at Bellin in Green Bay as a Cardiologist.
Ringwala also has family in the medical field. His cousin, who also practices cardiology, graduated from Oshkosh North High School. In fact, many of his cousins graduated from Oshkosh North. 
"All of our cousins went to North except a couple that went to West," says Ringwala.
Science teacher, Michelle Klysen remembers having the Ringwala family in class.
"He and his brothers were exceptional students," says Klysen. "They were leaps and bounds ahead. You knew they were going to do good things."
His children are currently enrolled in the public school system. Choosing between public and private education is a huge decision for families.
"I think a lot of school is what you put into it," says Ringwala. "For people who want to excel, there are opportunities to do so," 
Clearly, Ringwala utilized the opportunities schooling gave to him. He became a cardiologist. Not just any cardiologist, though, because they must specialize. 
"There's a regular cardiologist, interventional cardiologist if someone has a heart attack or rhythm problems."
Ringwala compares the various categories of cardiologists. His cousin specializes in a different type of cardiology.
"He's the electrician. I'm the plumber," says Ringwala. 
Ringwala's practice went full circle when Oshkosh North science teacher Chris Kujawa suffered a heart attack in late October of 2015. He went to Aurora Medical Center where he was diagnosed with a heart attack. The next step was surgery.
"The cardiologist happened to be talking to me," says Kujawa. "He started asking questions."
The pair talked during the procedure and discovered that Ringwala graduated from Oshkosh North.
"Holy smokes! The guy that's operating on me went to the school I'm currently working at," says Kujawa.
"He was very complimentary of the education he received," says Kujawa.
"It was neat, but as you're laying on the table, you're thinking, 'Let's focus,'" says Kujawa.
In the end, Rinwala repaired the circumflex artery with two stents. Ringwala continued to be his cardiologist for the next three years.
"I think it's so important as teachers that we demand such high standards because you never know when a former student is going to have your life in their hands," says Kujawa.
Not surprisingly, Ringwala leads an active lifestyle, an important part of maintaining a healthy heart. 
When he isn't saving lives in Green Bay, he enjoys peloton, paddleboarding, cross country skiing, and downhill skiing. Ringwala also enjoys traveling with his wife in his free time.