Fantasy Corner Week 7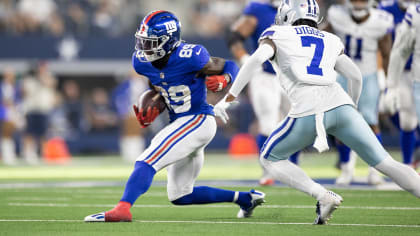 We had a crazy week 6 with the "highest scoring week in fantasy football this year" Said Michael Florio. With Justin Herbet, Lamar Jackson, and Tom Brady all scoring over 40 points, and 5 wide receivers scoring over 30 ppr points. Although it was a high scoring week, we had a ton of injuries including a terrible ankle sprain for Saquon Barkley which will push him out for up to 5 weeks and Clyde-Edwards Helaire going down with an undisclosed knee injury, which we learned was a MCL sprain. This opens the book up for tons of pick ups and adds.
With the number 1 addition this week we have Kadarius Toney, the breakout wideout for the New York Giants who totaled 189 receiving yards on ten catches. He was then tossed from the game after throwing a punch at a defensive back. He will not serve any suspension from that act. He has scored over 15 points per week in the past three weeks. This is a great sign for a young receiver, and Toney has huge potential, especially after building chemistry with quarterback Daniel Jones and back up Mike Glennon. This is a great pickup that will help you all season.Even though the return of Darius Slayton and Sterling Shepard is near, Toney still has a huge chance to take their targets and minutes, he has built a reputation with both of the Giants quarterbacks. He has had solid hands not dropping many passes. Toney still has huge volume, do not worry about the return of his fellow teammates.  
I am going to take another Giant this week with running back Devontae Booker, the backup running back to Saquon Barkley who went down with an ankle injury. This gave the backfield almost entirely to Booker who rushed for 42 yards and a touchdown, and also caught 3 passes for 16 yards and another touchdown. If he can keep this volume throughout Barkley's absence, Booker will be a great flex option in the coming weeks.
Next, Buffalo Bills TE Dawson Knox has been very productive in the past three weeks totalling 4 touchdowns. He is part of one of the league's most dangerous pass offenses and has built a reputation around the goal line with quarterback Josh Allen. He is a tight end you pick up and start. I would scramble to grab him before he is gone. He is the number 3 ranked PPR tight end thus far. I am looking for him to keep producing.
After a terrible Clyde-Edwards Helaire injury, Darrel Wiliams saw an increase in volume during Sunday's game. Clyde-Edwards Helaire went out of the game when the Chiefs were down 24-13. This forced them into a pass only situation leading Williams to see very few carries. We will get to see his worth after this week against Washington who has been vulnerable this season being ranked 19th this season in stopping the run giving up 164 rushing yards per game to running backs. I don't think he is a start this week, but I would definitely snatch him up and hold him and see what he can do. He is a great addition to this week's Chiefs offense. He has proved he is the lead back ahead of Mckinnon based on receiving 80 percent of the reps share after CEH went out.
A quarterback to stash this week is Carson Wentz of the Indianapolis Colts. he had a great game this past week passing for 402 yards and two touchdowns completing 25/32 attempts. He has been producing against some of the stoutest defenses in the NFL. He has an easy schedule to end the season playing some of the worst defenses in the league, including Houston, San Francisco,and Tampa bay. This is my stash of the week.
 Thank you for joining me for another week of fantasy corner!