Oshkosh North High School "Alters" the Dress Code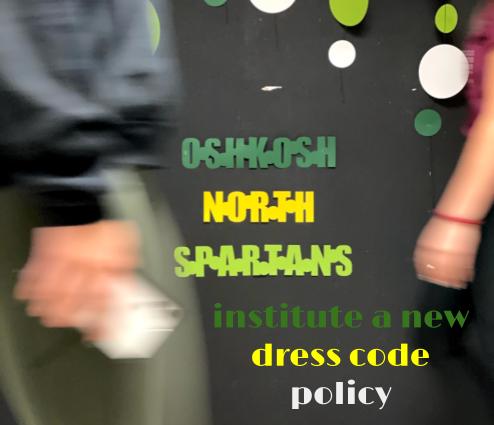 The topic of dress code policy commonly causes controversy in high schools. In an effort to make it less restrictive, the Oshkosh Area School District has significantly loosened the dress code for the 2021/2022 school year.
According to Policy 5511 of the Oshkosh North student handbook,
"The fundamental purposes of the Oshkosh Area School District are to maintain and enhance the learning atmosphere of our schools, be consistent with our district goals, and provide a safe learning environment for our students… We ensure that all students are treated equitably regardless of race, sex, gender identity, gender expression, sexual orientation, ethnicity, religion, cultural observance, household income or body type/size."
To summarize, students must wear clothing that covers all private parts and must have shoulder straps or sleeves. Students may wear clothing to express their self-identified gender or religion. However, students still may not wear clothing with offensive language including profanity, pornography, or references to drugs, alcohol, or other illegal activities. Hats or hoods are not permitted. 
The student handbook from the 2020-2021 school year states the following about dress code. "Student dress must cover a student's midriff/stomach, chest/cleavage, buttocks, and all undergarments. Undergarments include but are not limited to clothing sold as such." The dress code this year still requires that chest/cleavage and buttocks must be covered, but is less strict regarding midriffs and undergarments.
Jacquelyn Kiffmeyer, Oshkosh North Principal, states that acknowledging different cultures within our school was a main part of the change.
"Student success starts with students feeling safe, welcomed and comfortable. As a school culture, this is always our goal, so we felt that we needed to address our dress code policy to make sure it aligned with the culture we believe in," Kiffmeyer says.
For example, a student will not be reprimanded for wearing a cropped t-shirt or showing straps of undergarments, provided that it still follows the basic rules above, as they may have been in past years. 
Junior McKayla Hotz feels the dress code achieves the district's goal.
Hotz says, "I know that it's less strict and I like that it's less strict. You can wear different clothes and not have to be dress-coded all the time." 
She also said that she liked the individuality of the new Dress Code. 
"I feel like I've seen people wear the clothes that they would wear outside of school more, and dress the way they like to dress," Hotz says.
Aleksandra Kocic, a senior foreign exchange student from Serbia, agrees with Hotz that the dress code is less restrictive upon individuality, but states that students may be taking too much advantage of it. "Especially since it's super [hot] out and people are wearing super short stuff and it's a little messed up, but I don't really mind it that much," Kocic says.
She states that the dress code is unlikely to cause problems with parents with opposing views "as long as teenagers aren't being sexualized."
Oshkosh North administration is striving for the school to have a more welcoming environment and this alteration is a strong step in that direction.