Bike to Work Week: May 17-21
The Communities 1 students at Oshkosh North will host National Bike to Work Day on Friday, May 21 throughout Oshkosh.
Businesses across Oshkosh will operate 11 pit stops for cyclists from 7-9AM.
"We are going to hold stations where people can come by, and we can tell them a little information about why biking is important to our community," says sophomore Luke Sonnleitner.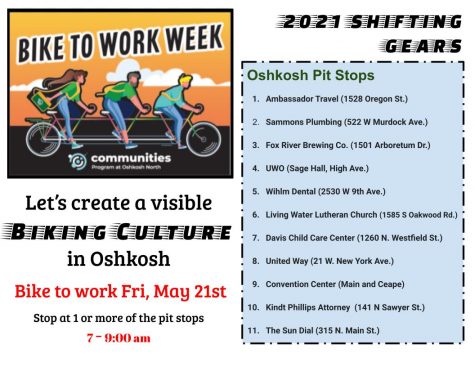 The event aims to raise awareness about the health, economic, and environmental benefits of biking and stimulate a more visible biking culture on the roads and bike paths in the Oshkosh area.
"Two-thirds of the citizens of Oshkosh travel less than 20 minutes to work. This means that it is very doable that more citizens can bike to work," said Communities Instructor Richard Leib. "I hope that our students' passion for their city and communication skills encourage the residents to shift gears and get on their bike on May 21."
From meeting with representatives from multiple related organizations to researching characteristics of bike-friendly communities, Communities students educated the Oshkosh community on what makes the event so important.
"We advocated and talked about it, using our voices to show what we are going to do," says sophomore Charlie Gess. "We are hoping people will follow our role… and spread the word to get the news out there… It's a really fun way of transport from place to place, so people doing this and engaging with us could change their view on how they get to work or school."
The Freshmen and Sophomores of Communities hope to use what they've learned to instill positive change.
"We are meeting a bunch of community members to learn how we can benefit from biking, environmentally, in what it does for your health and what we can do to advocate biking for everyone else," says freshman Ally Tlatelpa. "I think the most important thing about Bike to Work Day is seeing the effects on our bodies and environmentally [and bringing] the community together.
Join the Communities at Oshkosh North in safely celebrating bicyclists and biking culture in the Oshkosh community.
To learn more about the pitstop locations and National Bike to Work Day, visit Communities at Oshkosh North on Facebook, Twitter, and Instagram.