A coronavirus crisis and a great intro to Supertramp
Stuck at home. Little separation between school and home life. Likely spending several monotonous hours at a time sitting in front of a computer.
Sound familiar?
As the crises of today's world became a much larger part of my daily routine, music became increasingly important to keeping motivated, and one album in particular stood out to me, as a classic rock fanatic.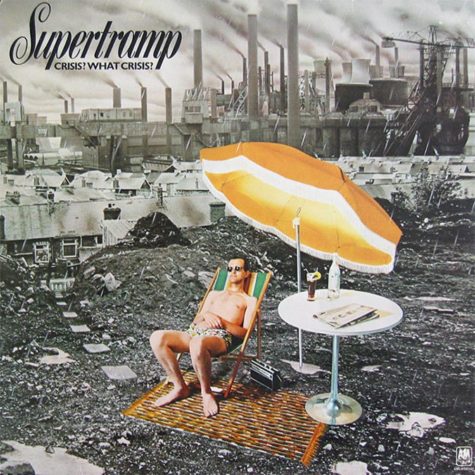 Co-frontman Rick Davies of British rock group Supertramp had conceived the aesthetics of the band's fourth studio album, Crisis? What Crisis?, which depicted an untroubled man relaxing in his deck chair surrounded by calamity. While explanations for the album's inspiration come in the form of crisis in the band from a busy touring schedule to economic crisis in England at the time, the cover and title felt incredibly relatable today as many people have used similar phrases–both sarcastically and genuinely–to describe the world's current predicament.
The album's 1975 release immediately follows what many, including the band members themselves, consider Supertramp's creative peak. Its musical style continues the seamless blend of Davies' bluesy rock and Roger Hodgson's pop sound established in their previous album (Crime of the Century), tied together by the saxophone (played by band member John Helliwell) that had already become iconic of the group.
Although they lack the thematic consistency of its predecessor, the album's 10 tracks give listeners a good variety of songs that didn't get as much attention as those in some of Supertramp's later albums.
Crisis? What Crisis? immediately immerses the listener, opening with the quiet bustling of an English street and the nonchalant whistling of the medley of "Easy Does It." The song beautifully bookends the album, along with the final track, "Two of Us," making use of a serene softness found only in these two tracks.
A definite highlight of the album, "A Soapbox Opera" demonstrates Hodgson's profound songwriting and the theological inspiration behind much of his work. The song has an emotional tone and style that somewhat foreshadows that of "Fool's Overture," a better-known song that would release in the band's fifth album, as well as much of Hodgson's solo career.
Despite tough competition (particularly from Hodgson's music, which normally holds the spotlight), Davies' "Poor Boy" steals the number one spot of the album. Arguably Davies' most successful Supertramp song, "Poor Boy" brilliantly blends the styles of the two frontmen with a light, carefree sound complimenting its lyrics.
The album concludes with meditative lyrics (again from Hodgson) found in "The Meaning" and "Two of Us." Both tracks contribute toward a thoughtful finale to a well-rounded album.
Like Supertramp's other albums, Crisis? What Crisis? succeeds by somehow sounding very similar and yet completely separate from previous and subsequent albums. Although it features fewer hits than other more popular Supertramp albums, Crisis? What Crisis? offers a wonderful introduction to a unique style of classic rock and a great way to push aside the crises of today's world–at least for 47 minutes.