Navigating the 2020-2021 school year
September 2, 2020
"Are you ready for school?"
Whether being "ready for school" entailed getting a new pack of crayons or registering for CAPP classes, chances are, as a student, you've heard this question more than once as you've neared the beginning of each school year. However, the 2020-2021 school year brings the common question a completely new meaning.
With the outbreak of COVID-19, Oshkosh Area School District (OASD) staff have been hard-at-work developing a protocol to safely start the school year. Although Oshkosh North High School (ONHS) administration has already explained some of the larger points like the A/B hybrid schedule and mask policy, many smaller changes await students as they return to school this fall.
Please note, however, that everything within the plan is subject to change with national, state, county, and city COVID-19 guidelines and recommendations.
You've most likely experienced some of these changes over the past couple of days as North had abruptly changed between hybrid and virtual learning. This is, in fact, an outcome of the district's four-model plan, something you may have heard referenced before. The plan consists of four models ranging from Full Face-to-Face learning with no restrictions (Model 1) to Fully Virtual Learning (Model 4). The 2020-21 School Year Plan specifies that "transitioning between models may occur rapidly" as North frequently re-accesses the COVID-19 situation.
As of Wednesday, September 2, North will return to its initial plan of Hybrid learning (Model 3), with "B" students attending in-person and "A" students attending virtually on Thursday, September 3.
Whenever you go to school in-person, as is the case for any public space in Wisconsin, face masks are required to be worn by everyone in the building. More specifically, the district requires students to wear either cloth or medical-grade masks, and, like any other piece of clothing, masks must conform to North's dress code by not disrupting the learning environment. Non-compliance with the new mask policy is handled with North's current disciplinary measures.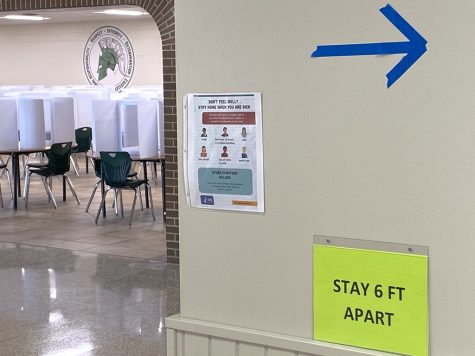 Now that you know your schedule and you have your mask, you're ready to enter the school building, although even that process has been modified. While all adults are required to answer typical COVID-19 screening questions, students are only expected to use sanitizing stations—found at door one and door seven (and in cafeteria areas)—upon entering the building as well as frequently throughout the day. Breakfast will also be available to students at both doors via new grab-and-go bags, although the Snack Shack, a common morning stop for students, has been closed indefinitely.
Next, it's time to get to class. In order to eliminate crowding in hallways, students must report directly to their first or zero-hour class; however, your hallway rout is probably much different than you would expect. Modified similarly to those of other public buildings, the hallway traffic layout now consists primarily of one-way hallways and staircases, marked by various arrows taped to the floor, walls, and lockers.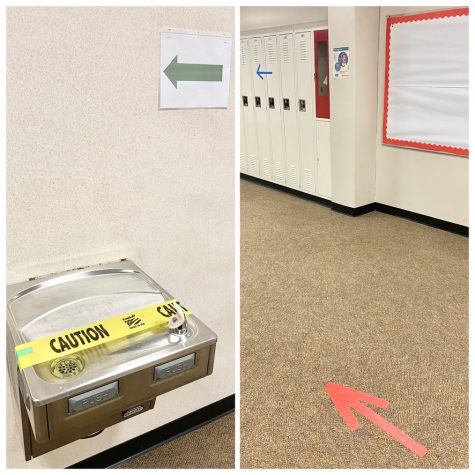 In addition to arrows, you will also notice that only bottle-filler water fountains may be used as traditional water fountains have been taped off. Students' use of lockers has also been cut–including locker rooms–to avoid contact between students, and bathrooms will have a maximum capacity posted on the door.
Of course, precautions in limiting contact are not limited to the hallways; once in the classroom, you'll notice some changes. While seats have been spaced apart as much as classrooms allow, new assigned seating will further help keep students at a safe distance. Half of the seats in a classroom are labeled red while the other half are labeled green; the seats that are used alternate every hour, allowing teachers to disinfect the other half in between classes. When proper social distancing is not practical (during lunch, for example), plastic dividers will be used to separate students.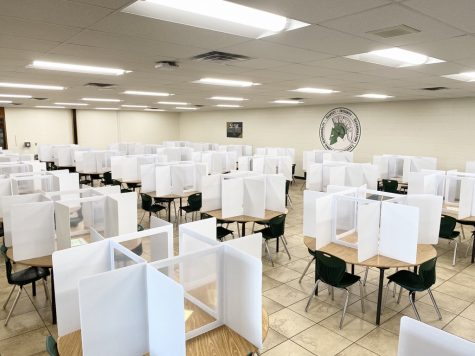 While North's previous daily schedule included two lunch periods, this year, students have been divided into four. However, this is not the only change in students' daily schedules. The relatively new Excel period has been removed and replaced with a daily homeroom with your fourth-hour teacher.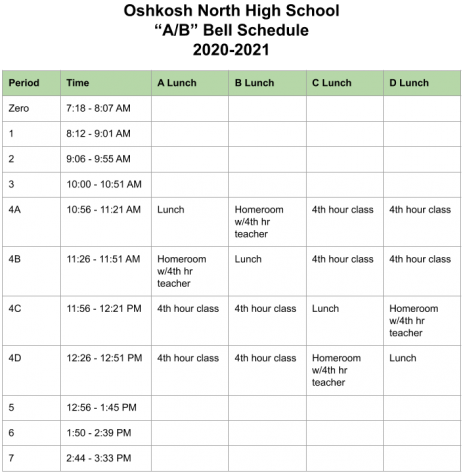 Unfortunately, this year's school-wide gatherings such as pep rallies, dances, concerts, and theater productions have been canceled, as well as any field trips. Despite the fact that physical gatherings are unlikely, digital gathering solutions may still be considered.
ONHS staff are aware that this year brings challenges unlike any other before it but are hopeful in helping students safely continue their education.
"Students should know things may look different, but ONHS is still filled with adults who are ready to help and keep you safe," said Principal Jacquelyn Kiffmeyer. "We are Spartan Strong. We will get through this together.  We will be going through all new procedures and processes on the first day, so relax and come ready to connect, reconnect, and be engaged."
The North Star will continue to update North's COVID-19 response. Please email or comment if you have questions you'd like us to answer.