Schamens, Geisthardt inducted into athletic hall of fame
On Friday, Jan. 10, Brooklyn Schamens and Turner Geishardt were inducted into the Athletic Hall of Fame in between the JV and Varsity boy's basketball games. Schamens and Geishardt both graduated in 2014 and earned 21 varsity letters between the two of them. 
Schamens started golf the fall of her freshman year, but later found cross country was a better fit for her. She went on to earn three varsity letters and FVA Honorable Mentions as well as the Spartan award sophomore year and team MVP her junior year. She also earned four letters, FVA Honorable Mention twice and FVA 1st team twice while playing basketball. In 2013 the team ended second in the FVA after finishing the season one game before state with a (19-7) record. She left North as the 3rd all-time leading scorer and played in the WBCA All-Star game.  In the spring, Schamens played soccer for three years, lettering twice, but then switched to track for her senior year where she also lettered. Schamens says her best moment was scoring the game-winning basket against Fond du Lac in double overtime with her signature euro-step move. 
Upon graduation, Schmans received a Division 2 Scholarship to Upper Iowa University where she played for two years before ending due to injuries. She earned a degree in education and is teaching and coaching at Kuemper Holy Spirit School in Carroll, Iowa. 
 "The most standout thing about Brooklyn was that she received all conference honors all four years for basketball which is very rare," explains Oshkosh North Athletic Director Craig Lieder. 
Geisthardt earned 11 varsity letters during his time at North through football, basketball, and track and field. Four of these letters came from football through which Geisthardt earned 2nd Team FVA South Kicker twice, junior and senior year, as well as Honorable Mention senior year as a receiver. In 2013, Geisthardt and the rest of the North football team made it all the way to the Division 2 State Finals game where they ended with a (13-1) record, the 2nd best in school history. Three more varsity letters came from basketball, in which Geisthardt and the basketball team were FVA Champions and State Qualifiers in 2012 and 2013. Track and Field earned Geisthardt four more varsity letters. He participated in jumping events and qualified for state his senior year in triple jump. He placed 22nd at state and was the team MVP that season. 
In college, Geisthardt went on to earn four varsity letters at the University of Wisconsin-Oshkosh as a kicker and punter. The team was the WIAC Champions twice (2015 and 2017) and finished second at Division 3 Nationals in 2017. Geisthardt earned 2nd team WIAC Honors three years on the team, 1st Team as a kicker in 2017, and Honorable Mention in 2018. He finished his career as a two-time Academic All American 1st team as well as being awarded the WIAC Max Sparger Scholar Athlete Award, the UW-O John Taylor Scholar Athlete Award, and was also a William V. Campbell Trophy Semi-finalist in 2018. He now ranks 1st All-Time in career punt yards at UW-O and 4th in the WIAC. 
"The most impressive thing about Turner was that he went to state in all three of his sports and had an outstanding college football career at UW-O," explains Lieder. 
Geisthardt graduated from UW-O with a Kinesiology degree and is attending Quinnipiac University in Connecticut for a Master's Degree in Physician Assistant Studies. His favorite memory while playing sports at North was competing at state four times in three different sports during his junior and senior years. 
Entrance into the Athletic Hall of Fame requires good grades as well as an outstanding athletic resume. 
"An athlete must be graduated for more than five years and have an outstanding high school and or college athletic accomplishments. The candidate is nominated and then fills out a questionnaire. A committee made up of administrators, coaches, community members, teachers, and a current North student vote on which member should be inducted. One of the first questions the nominees are asked is what was your cumulative GPA, so grades do matter," explains Lieder. 
About the Writer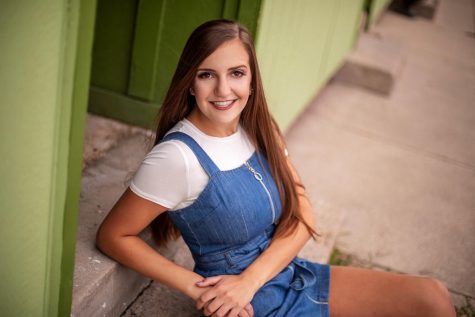 Andi Pieczynski, Editor
senior, dancer, editor, corgi fanatic, mac n cheese lover