Ostler hopes to change History
Out of four different high Schools around, she chose to come back to Oshkosh North.
New Social Studies teacher Lizzie Ostler grew up in Neenah where she lived the majority of her life. She went to college at UW Stevens Point with her twin brother Jimmy, and then got her teaching degree at UW Oshkosh. She chose to live in Oshkosh after college while the rest of her family stayed in Neenah. 
In her spare time, Ostler likes to watch movies.
"My favorite 60s movie is the Great Race, a movie that I like to just turn on would be Iron man, and a movie I like to just laugh at is What We Do In The Shadows."
She also enjoys hanging out with family and friends, as well as watching and playing tennis.
Ostler decided she wanted to be a teacher when she was in her history class in junior year of high school. However, she despised social studies back then. She described it with a few choice adjectives.
"Boring, dry, and dreadful". 
She wanted to change the class, and teaching became her solution.
"I knew from that day, I could teach better than him." 
Ostler made that a challenge for herself. She continued high school and college, determined to achieve that goal. She chose history not only because of her experience in her "dry" history class but also because she has always earned good grades in the classes.
Ostler describes her teaching style different from other teachers.
"I try to make connections with every student and get to know them, and I also try to be funny during class to prevent dryness."
So far, she has enjoyed teaching.
"The most enjoyable part of teaching for me is when I have caught everyone's attention and I am able to see them talk and interact with each other while I just disappear."
As a teacher, Ostler hopes to make sure she is always planning ahead. 
"The most overwhelming thing as a new teacher is starting from scratch and trying to come up with your teaching plans."
Oshkosh North seemed like a logical place to start since she already knows the social studies department and other teachers. 
"I took the teaching job because I had a great experience here as a student teacher last year. I also got to know a lot of students, as well as staff members, and I have never had this diverse of a class in all my teaching experiences."
We all know we can't change the past, but Ostler had dedicated her time to help change the class!
About the Writer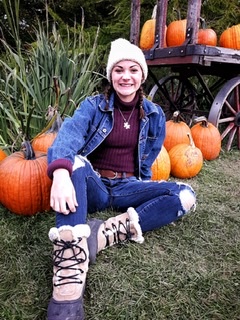 Mollie Schultz, Features Editor
Just a fun-size high schooler and a three-sport athlete.