Book Review: The Color of Our Sky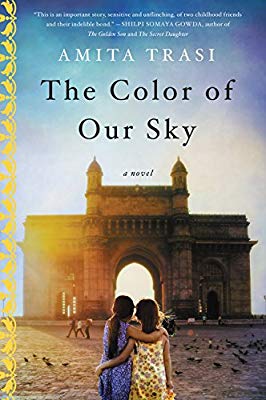 Two childhood friends embark on a sweeping emotional journey. One is trying to survive the human slave trade while the other one is on a mission to save her.
The Color of Our Sky is a heart-wrenching novel of a bond shared by two girls belonging to different backgrounds. It is a tale of friendship, love, betrayal, and womanhood. Author Amrita Trasi has uncovered the horrors of Asia and put a reflection on the brutal reality of Modern India.
Young Tara from an upper-class family with a twist of fate meets Mukta who was a temple prostitute and tries to escape her reality: she was born into a family of prostitution. 
An unfortunate situation separates the two girls, sending Mukta to a  brothel in Mumbai and Tara far away to another land. Tara's quest to reunite with Mukta along with the mysterious reason for Mukta's disappearance and her life during those 11 years are the heart of the book.
Trasi does a great job giving the audience the impression of brothel life and how girls are forced into it. She has defined the harsh reality of prostitution and spread awareness by writing the book. It is a disciplined and quiet protest against the violation of women's rights in Asia.
This novel portrays an undying hope and the true charm of friendship. Trasi introduces the audience to the traditions of India. While reading this story, readers experience what the characters feel, see and hear. 
The Color of our Sky leaves me with very mixed feelings. This story gave a great message and is incredibly thought-provoking.  Many people are also attracted by its cover, which contains a picture of two friends embracing in front of a temple in India.
I would rate it 10/10 and would suggest everyone read it, especially those looking to experience a more global perspective.