Four to retire this year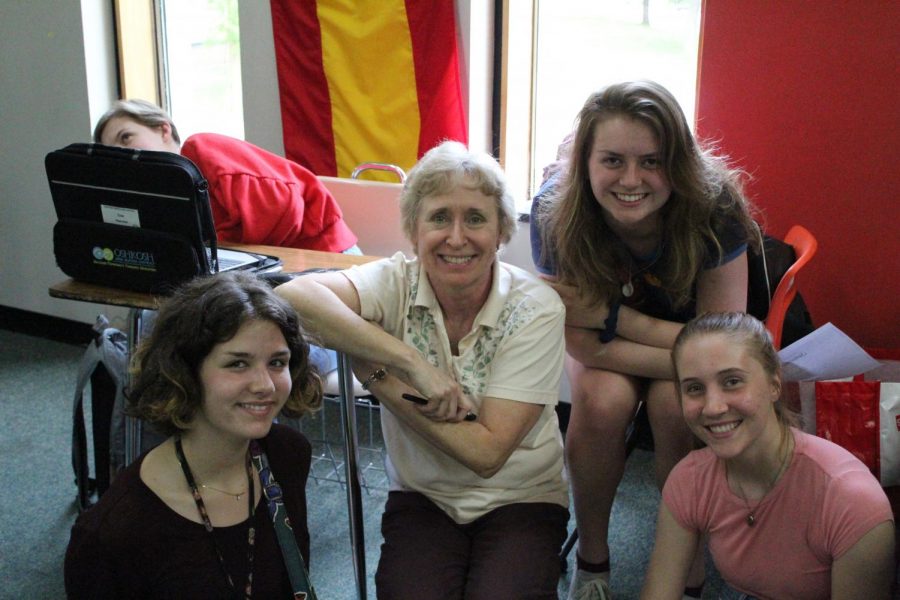 Jaime Thor, Writer
May 30, 2019
A handful of staff members will join the seniors by ending their era here at Oshkosh North. Among those are special education teacher Debra Madel, janitor Douglas Nimke, technical education teacher Jerry Johnson, and Spanish teacher Tracey Sayavedra.
Johnson is the Technology & Engineering Department Chair. His main classes taught include General Woodworking, Graphic Arts Printing, and Applied Geometry. Over the years, he has also taught various other classes as well.
Johnson initially got interested in becoming a teacher during middle school and high school and he really enjoyed shop classes, so he says it was only natural for him to become a technology and engineering teacher.
He started his teaching career in Mercer, WI after college. He taught there for 4 years before accepting a position at Perry Tipler Middle School, where he then taught from 1991-1997.
After Tipler, he taught at Carl Traeger from 1997-2002, Oshkosh West from 2002-2010, and finally Oshkosh North from 2010-present.
After retirement, he will be spending time with family and traveling.
Johnson says he will most likely find a part-time job until his wife is able to retire.
One lesson he learned with his time here is to be flexible and don't sweat the small stuff.
When asked what he will miss most about ONHS, he said that teaching is a people position, and he has enjoyed working with students and staff over all these ears, especially the teachers in his department and his applied geometry co-teachers: math teacher Heather Hill and special education teachers Shaun Holmes and Jennifer Kurzinski.
He has a special message for North students and staff.
"For students, enjoy your time here and take advantage of all the opportunities that this school has to offer. Your 4 years will be gone before you know it. Staff, keep being the awesome staff that you are and continue to work with each other to do what is best for all students."
Nimke has been a custodian in the Oshkosh Area School District for 34 ½ years, but he began at Oshkosh North in May of 2011.
His career started as a janitor at Oshkosh West and then worked at Jefferson, Smith, Oakwood elementary, and South Park Middle as a Fireman 1. He then worked at Merrill and South Park as a Fireman 2.
Afterward, Nimke became the head custodian at Lincoln, followed by the head custodian at South Park, and finally head custodian at Oshkosh North.
After retirement, Nimke plans to enjoy more time outside gardening, golfing, and moving to Florida in the fall.
Over the years, he has seen his fair share of messes, but one stands out among the rest.
"The biggest mess would be the time a student in elementary got sick in their desk covering everything," he said.
Some of his daily duties include general cleaning, building maintenance, clean-ups, pool maintenance, schedule overtime, grass cutting, snow removal, and anything else that comes up during the day.
Nimke says he will miss the interaction with staff and students, and he will miss the work.
Some of his memorable moments at Oshkosh North would be when his son Bren spoke at the Veteran's Day assembly and greeting students at the door as they came to the school dances.
Nimke would like to leave North with a quote from one of the greatest baseball players and a great man: Roberto Clemente.
"If you have the chance to accomplish something that will make things better for people coming behind you and you don't do that, you are wasting your time here on earth."
Janitor Mike Schumann, who currently works at North, will be taking on the position of Head Custodian beginning next school year 2019-2020.
Sayavedra has been teaching at Oshkosh North for 30 years. She has taught many courses some of which include Spanish 1-3 and ELL. She attended a small high school in northern WI that did not offer language classes, and it wasn't until she traveled to Mexico in the summer of 1973 when she was finally exposed to a second language.
She began her teaching career in the Colegio Americano (American School) in Mexico City where she taught high school band and choir for one year. She then taught in Western Minnesota for 4 years, still as a band a choir teacher. She left that job to go to the University of MN for her master's degree in Second Languages and Culture education.
Sayavedra taught English to teachers of English in a private institute in Argentina as well as English to professionals in Mexico City. In addition, she taught Spanish 3 for one year at Hill Murray, a private Catholic high school in MN before moving to Oshkosh in 1989.
Sayavedra remembers many barriers to women being band directors in the early 80s and she didn't want to stay in a small town her whole life which is why she decided to get her master's degree. This would give her a broad spectrum of classes that she would be able to teach.
After retirement, Sayavedra may be substituting for her colleagues at ONHS for the first year and will continue her part-time job at the Eastbay call center. Her husband is currently building a house for them in Argentina, so she will also be busy cleaning up their current house, getting it painted, emptied, and sold. 
Sayavedra states she will miss her colleagues, especially those in her department– They are great friends and people.
As far as advice, she says, "Turn off your screens and be cognitively and emotionally present! Interact with one another, listen to one another and be there for each other! Take a day per week and be screen free! I fear that youth are losing their ability to be creative, to problem solve, to concentrate because of the constant draw of screens…It is a wonderful resource, but it has changed many people's time use and priorities. We saw in the most recent election how social media is being used to spread untruths, filter what we see, incite, manipulate and divide us. Don't replace learning, thinking and loving with entertainment."
Madel began teaching at Oshkosh North in 1996. When she started, teachers only got one classroom computer for the teacher and used tv and a chalkboard.  Now, every student has Chromebooks and they use smart boards every day.
She is a Special Education teacher in the ID self-contained classroom. She graduated from Oshkosh High School and attended UWO for her bachelors and masters degrees in Elementary Ed and Learning Disabilities and Cognitive Disabilities. As a Special Education teacher, she teaches functional life skills such as cooking, cleaning, work skills, health, social skills, community skills, safety in the community, how to shop, eating out, using community resources, and how to travel in the community.
After retirement, Madel will be going on some exciting trips and will also be doing volunteering with Able Trek tours. She will continue with her music, singing with the Chamber Singers, and ringing with Encore! Handbell Ensemble. Beyond that, she is leaving her options open to opportunities that develop.
Madel will miss all of the friends she has made during her time at ONHS. Her final message is to find your passion and do what you love and the time will fly.
On behalf of the Oshkosh North High School community, we thank you all for your years of mentorship, dedication, and influence!