North heads to Madison for Great World Texts
On April 9, 34 students from Emily Nault's English 1 Honors, Amanda Nienhaus' English 2, and Jason Cummings' English 2 Honors classes, as well as a few other students, attended the Great World Texts (GWT) conference at the University of Wisconsin-Madison, a program with the goal of connecting scholars, high school teachers, and students from across the state.
This year, students read A Small Place by Jamaica Kincaid, a work of nonfiction about her life growing up on the Caribbean island of Antigua. Over 2,500 students as well as nearly 70 teachers from 32 schools from all over Wisconsin participated in the event, including schools such as Oshkosh West, Madison East High School, Milwaukee High School of the Arts, and Beaver Dam High School. 
"Postcolonial literature is something new to a lot of our students. It's a nice way [to step] into something different," said Nault. "I think a lot of students have a new perspective about tourism and travel."
The book was particularly insightful when Kincaid addresses these issues concerning tourism, colonialism, and culture in Antigua. She shows readers the darker side of tourism and the island's past, a story they had never seen before.
"It was interesting to see two sides of one story," said English One Honors student Emily Heider.
After reading Kincaid's book, students made their projects relating to it. Students could present these ideas in ways ranging from essays to paintings to videos to musical arrangements.
"You could see hundreds of different ways the book was interpreted and share your ideas with others," said English One Honors student Elise Liske.
Students enjoyed seeing other students' projects, discussing their ideas with their peers, and listening to the keynote speaker, Cherene Sherrard-Johnson, faculty advisor of GWT and Professor of English at UW-Madison.
"I would definitely go again," said English Two Honors student Rachael Robeson. "I would suggest going to anyone who enjoys discussing important topics in today's society."
Teachers received a curricular guide and supporting materials at a conference in Madison in September at the educator colloquium. During this conference, teachers learned teaching strategies and talked with other educators from across the state.
Many of the various different projects touched on topics that were relevant to students today, with each of the readers making their own connections to Kincaid's book.
"I was really proud of the group we brought," said Nault, "how creative their projects were."
Of the hundreds of projects presented at the event, a project made by Oshkosh North English Two Honors students Max and George Yanacek made top five by popular vote of all students who attended the conference. The project made connections between Kincaid's A Small Place and The LEGO Movie regarding colonialism and culture.
"It was a lot different from other English projects," said Max Yanacek. "We were able to base our interpretations on something we were good at or passionate about."
For the next event, participants will read Kiss of the Spider Woman, a 1976 novel by Argentine writer Manuel Puig, depicting the conversations of two cellmates–one gay and one a revolutionary–in an Argentine jail, forming an intimate bond during their time in prison.
"It's different every year," said Nault. "It depends on the literature."
Students who would like to read Puig's book next year and make a project based on it can contact Mr. Cummings.
About the Writer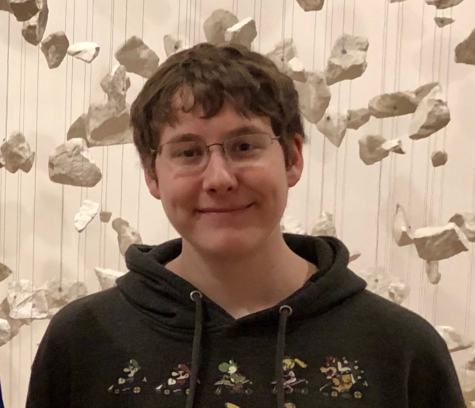 George Yanacek, Entertainment Editor
Senior, art student, mathlete. I like playing with my dog, listening to The Beatles, and playing Mario Kart 8 Deluxe.